PrePass Group Application (185.05 kB)
The American Alliance Drug Testing would like to pass on it low-cost PrePass program that we believe everyone from regular to seasonal trucking will surely benefit from.
Not only do we offer our members/clients great monthly pricing for active devices, but a special discount Seasonal rate as well. Instead of cancelling service for each device and sending them back to PrePass, a company or owner-operator can just turn the device off. If it is not used during an entire month, the device will be billed only a discounted administrative fee.
Benefits
No Initial Expense
Low Cost – Flat rate By-pass or Seasonal non-op rates
CALL FOR CURRENT RATES
Monthly Flat Rate
AADT Clients qualify for a discount for each device
Seasonal Rate
Seasonal rates are also discounted over retail
How to Sign-up

New applications must be faxed or emailed to Vivian at WSTA.
Customer maintenance requests must be sent to Support@PrePass.com
Seasonal Shut-off request must be made via;
Vivian – Prepass@westrk.org
Karina – PrePassAccountManagers@PrePass.com
Billing inquiries can only be made by Vivian at WSTA.
PrePass will provide the requested billing information to Vivian who will provide it to you.
PrePass Seasonal Shut-Off (SSOS) Procedure
Allows customer to shut off PrePass service for a month at a reduced rate of $4.99 and keep the transponder in their truck(s).
SSOS will not be prorated. Any request for PrePass service for a single day constitutes a full month of PrePass Service.
Requests to move to SSOS must be made no later than two (2) business days before the end of the month for the next month.
Requests to move to SSOS on the last day of the month or later will result in a full month PrePass Service Charge the following month.
SSOS can be in place for as many months as the customer wants.
Bypassing ability can be restored in 48 hours.
A regular PrePass account must be opened in order to sign up for SSOS.
A truck will receive red lights at all PrePass weigh stations while in SSOS status and the truck must pull into the station if it is open.
When a customer wishes to move some or all of their trucks from PrePass Service to SSOS, the following steps must be followed.

Customer must notify Vivian at WSTA what trucks they want to put in SSOS.
Vivian will notify Karina at PrePass.
In order for the customer not to be billed for PrePass service, PrePass must be notified of the switch to SSOS no later than the last day of the previous month.
PrePass will open a SSOS account for the customer.
The trucks will be moved to SSOS status on the 1st day of the month following month.
The truck will stay in SSOS status and will not be able to bypass until up to 48 hours after Vivian at WSTA notifies PrePass.

When a customer wishes to move some or all of their trucks from SSOS to PrePass Service, the following steps must be followed.

Customer must notify Vivian at WSTA what trucks they want to move to PrePass Service.
Vivian at WSTA will notify Karina at PrePass.
PrePass will move the truck(s) to PrePass Service within 48 hours.
The truck will start receiving green lights within the 48 hours and bypassing according to standard PrePass rules.
The customer will be billed the standard PrePass Service charge for the month the service was started.
The truck will stay in PrePass Service until the above steps are repeated.

Again, PrePass Monthly Service will not be prorated. Any request for PrePass service for a single day constitutes a full month of PrePass Service.
Requests to move to PrePass from SSOS on any day of the month will result in a full month PrePass Service Charge for that month.
What Is PrePass
PrePass is an automatic vehicle identification (AVI) system that enables participating transponder-equipped commercial vehicles to be pre-screened throughout the nation at designated weigh stations, port-of-entry facilities and agricultural interdiction facilities. Cleared vehicles are then able to "bypass" the facility while traveling at highway speed, eliminating the need to stop. Vehicles participating in the PrePass program are pre-certified. Customers' safety records and credentials are routinely verified with state & federal agencies to ensure adherence to the safety and bypass criteria established by PrePass and member states. If an approaching PrePass-equipped vehicle's weight and credentials are found to be satisfactory, a green light and audible signal from the windshield mounted PrePass transponder advise the driver to bypass the weigh station. Otherwise a red light and audible signal advise the driver to pull into the weigh station for regular processing.
Vehicles bypassing inspection facilities save drivers and their companies valuable time on the road, thereby reducing fuel and operating costs, while increasing productivity (See "Calculating Your Savings").
PrePass also benefits member states and everyone who uses our nation's highways. By reducing congestion around inspection facilities and enabling state inspection staff to focus their efforts on carriers that demand the most attention, PrePass helps make the roadways safer for everyone.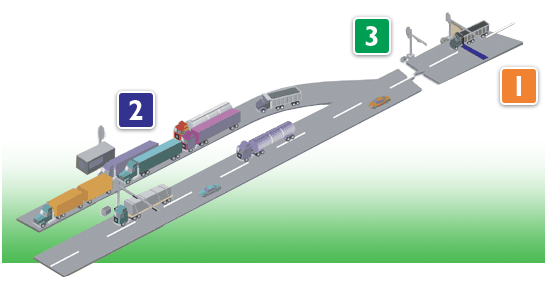 Trucks enrolled in PrePass are assigned small, wireless transponders that easily mount onto the vehicles' windshields. As one of these trucks approaches a PrePass-equipped weigh station, an electronic reader on a boom over the road automatically scans the transponder and identifies the vehicle.

A secure PrePass computer located inside the scale house accesses the vehicle information associated with the transponder, and validates it to ensure compliance with state requirements. At the same time, technologies such as weigh in motion (WIM) scales are often used to verify the truck's configuration and ensure axle and gross vehicle weights are within acceptable limits.

Finally, as the truck passes beneath a second boom, a signal indicating whether the vehicle may bypass is transmitted back to the transponder. If the vehicle's information cannot be validated, or if it is selected for a random manual inspection, a red light on the transponder alerts the driver to stop. If the vehicle's credentials, safety, and weight are all in order however, a green light tells the driver to go ahead and bypass the facility.
Contact PrePass for further information, let them know you are a member of California Construction Trucking Association and/or American Alliance Drug Testing.
 PrePass Group Application (185.05 kB)
Online Enrollment Form (Click Here)