AADT Office Will Be Closed 2/20/2017.
Due to the President's Day Holiday on February 20th, 2017, the WSTA offices will be closed.  We will reopen at 8:00 AM on February 21st.
---
Enroll easily and instantly with our online application.
Would you rather print the application? Download it here.
Already a client? Log in and manage your account.

A new Federal Motor Carrier Safety Administration program now requires all commercial drivers whose current medical certificate expires on or after May 21, 2014, to be examined by a medical examiner certified and listed on the National Registry of Certified Medical Examiners. California based drivers of School Buses, School Activity Buses, Youth Buses, General Public Paratransit Vehicles, and Farm Labor Vehicles must also use an examiner listed on the Registry.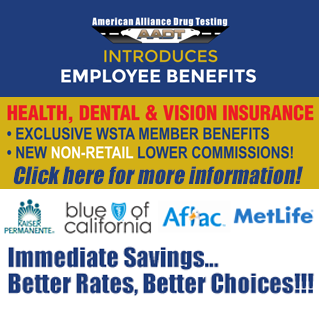 Our expanded service provides a "One-Stop-Shop" to assist employer compliance with DOT requirements.
Driver Qualification Files (DQ)
Hours-of-Service Training
Log Auditing
New Entrant Guidance and Education
Quarterly Fuel Taxes
Pre-employment Screening Program (PSP)
Motor Vehicle Records (MVR)
We understand your business needs