What is "Compliance Verification Made Easy (CVME)"?
Can you imagine, getting an email that notifies you instantly of a subhauler or a sub-hauler's driver which you contract with, not being in compliance with their drug and alcohol testing program through AADT?
American Alliance Drug Testing now offers a FREE online business web tool offered to all transportation brokers.
"Compliance Verification Made Easy" or "CVME" 
This web tool allows brokers to monitor the drug and alcohol testing compliance status on sub-haulers and their drivers. If a sub-hauler or driver falls out of compliance, an email will be sent to you instantly, notifying you of a program status change.
Our years of marketing research and experience have brought this new revolutionary tool to your business FREE of charge.
Granted, all we ask from you the Broker is to fill out our information profile, sign our agreement, and return it to us via snail-mail, fax, or email electronically scanned agreement – that's all!
This guide is an introduction to our easy to use online Broker CVME tool.
Lets begin!
CREATING A LOGIN
Before you can use the CVME Broker Tool, you'll need to set up an online account.
Click on "NEW ONLINE ACCOUNT MANAGEMENT" button below or go direct to this link:   https://secure.aadrugtesting.com/CTPA/CreateAccount.aspx.
The link button will redirect you to our TPA Online Registration page.
FILLING OUT YOUR COMPANY INFORMATION
Step 1.
The first form is your basic User Name and Password creation form.
We ask users to create a security question, so if you ever forget your password, you can be reminded via email.
Once you have completed the basic form, click on the "Create User" button, you will be redirected to our second form which will ask you basic company details.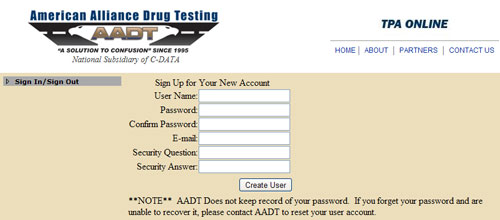 Step 2. 
Since you are signing up as a Broker, click the check box next to Company Account Number.
This will set up your account as a Broker. Once you click on "OK", a confirmation note of account submission will be shown below in red.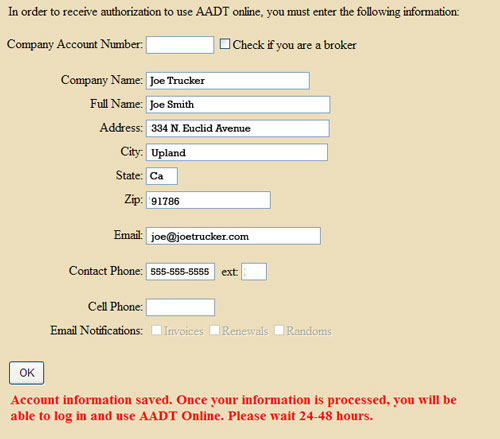 The site navigation tree is detailed as follows in this diagram, starting with Broker Home.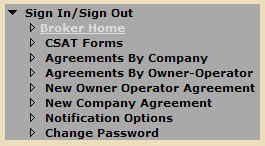 Note: Document Downloads and the AADT Price List (From 103) is not listed on this tree.
BROKER AGREEMENT ACTIVITY REPORT
Once your login has been created and approved by an AADT customer service specialist, you can log into the online account.
Please keep in mind, Username and Password are case sensitive.
The first page you will be logged into is the "Broker Agreement Activity Report".
This Broker home page will show a report of activities within 90-days pertaining to Owner-Operators and companies that your company has agreements set up with.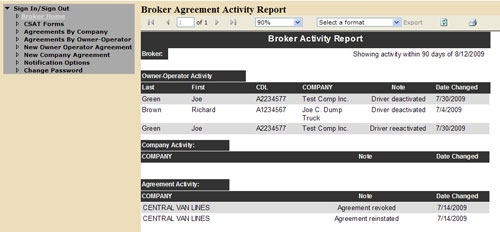 Broker Home Page Screen
CSAT FORMS
You can view and print forms for your company or new agreements right online by clicking on "View Agreement".


CSAT Form Screen
Need to Reinstate an Agreement That Was Previously Revoked?
Just print out a new copy, send it to your sub-hauler and have them return it to AADT with their signature.
VIEWING CURRENT AGREEMENTS
You'll be able to view status on Agreements with individual Owner-Operators as well as agreements with companies that have multiple drivers.


Agreements By Company Screen


Agreements By Owner-Operator Screen
SET UP NEW AGREEMENTS
You can submit requests for new Agreements online, with either an Owner-Operator or a Company.
Click on "New Owner-Operator" or "New Company".
Simply fill in the information, print out the agreement form after you have clicked the "Add" button and have the signed copy returned to AADT's office.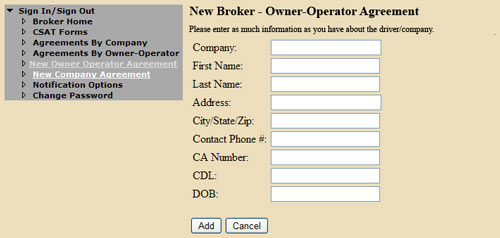 RECEIVING EMAIL NOTIFICATIONS
Once your Agreements have been approved by AADT, you will receive emails whenever the status changes of any Owner-Operator or subhauler company that you contract with.

No more guessing about drug and alcohol testing compliance status or issues.
---
We hope that these online guides will help you get started with our Broker management tool. Any further assistance you may need you contact AADT at (909) 982-8409 or fill out the email form below.