DOT Physicals and Drug Testing Done on Location

AADT NOW Provides
DOT Physical and DOT Drug Screening
For all DOT Commercial Drivers at Its Home Office
Physicals provided by Green Light Testing Services
Dr. Marjorie Greene D.C., Certified Medical Examiner for DOT physicals
Need a DOT Physical or Drug Collection?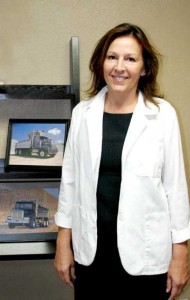 AADT is happy to announce Green Light Testing Services new office facility insides AADT' building that will allow both the members and AADT clients to truly have a convenient "one-stop shop" for DOT physicals and drug/alcohol collection. Even better, Saturday office hours!
Beginning August, both drivers and employers will be able to have those services performed in-house when stopping by the office at 334 N. Euclid Avenue, Unit B, Upland, California.
Marjorie Greene D.C. is a Certified Medical Examiner for DOT physicals and is listed in the National Registry of Certified Medical Examiners Registry
(see: www.nationalregistry.fmcsa.dot.gov).
She received a B.A. in Sociology from the University of South Florida in 1985, a Masters of Arts in Counseling Education in 1987 and a Doctor of Chiropractic from Life College in 1996.
Besides her regular office hours, Dr. Greene can perform on-site drug/alcohol collections for DOT and non-DOT clients. Her services also include performing DOT and pre-employment physicals. Both clients and association members will receive services at a reduced rate. Dr. Greene is also available for "after hours" alcohol and urine drug collections including post-accident in a limited service area.
OFFICE HOURS:
Mon: Noon – 7 P.M.
Tue: 7 A.M. – Noon
Wed: Noon – 7 p.m.
Thu: Closed
Fri: 7 A.M. – Noon
Sat: 7 A.M. – Noon
334 N. Euclid Avenue, Unit B
Upland, CA 91786
714/ 812-6086
leave a text, or
email her at: drmgreene@gmail.com
---
Facts About Drug Screening and DOT Physical Exams
The Department of Transportation requires all Commercial Drivers License (CDL) holders to receive periodic physical examinations, entitled "Department of Transportation Medical Examination," to ensure the ability of the driver to safely operate a commercial vehicle. The US Department of Transportation sets the following guidelines:
CDL holders (Drivers) must have 20/40 correctable vision in each eye. Glasses or contact lenses are permitted.
Drivers cannot be a diabetic on needle-injected insulin; diabetes controlled through a diet or oral medication is permitted.
A driver's blood pressure must be under 160/100. Prescription medication to control blood pressure is permitted.
Use of a Schedule 1 drug, amphetamine, narcotic or any other habit forming drug is not permitted.
If a driver has a current diagnosis of cardiac insufficiency, collapse, congestive cardiac failure or any other cardiovascular disease, he/she will be required to provide the Medical Examiner with a stress test (performed within the last 12 months) along with a release from the driver's physician stating that he/she can drive a commercial motor vehicle without restrictions.
The Department of Transportation also requires clearance for drivers that have been diagnosed with the following conditions: sleep apnea, recent back injury, recent major surgery, a current hernia, or have had recent workers' compensation claims.
DOT Drug Screening
CDL Drivers are also required to take random drug screens to maintain their license. The required procedure tests for the following: Marijuana, Cocaine, Amphetamines, Opiates, PCP, Barbiturates, Benzodiazepine, Methadone, Propoxyphene, Alcohol (Urine Test)

A new Federal Motor Carrier Safety Administration program now requires all commercial drivers whose current medical certificate expires on or after May 21, 2014, to be examined by a medical examiner certified and listed on the National Registry of Certified Medical Examiners. California based drivers of School Buses, School Activity Buses, Youth Buses, General Public Paratransit Vehicles, and Farm Labor Vehicles must also use an examiner listed on the Registry.