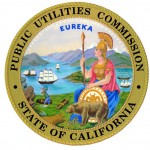 The Commission has regulatory and safety oversight over for-hire passenger carriers (limousines, airport shuttles, charter and scheduled bus operators), moving companies, railroads, light rail transit agencies, and rail crossings.
Authority over intrastate air carriers, for-hire vessel carriers, interstate passenger and household goods carriers, and intrastate private carriers of passengers, is limited to registration of operations and filing evidence of liability insurance.
Transportation of property, other than household goods, is regulated by the Department of Motor Vehicles (DMV) and the California Highway Patrol. Such transportation requires a motor carrier permit from the DMV.
To obtain the permit, please call the DMV at (916) 657-8153 or visit their web site at  www.dmv.ca.gov.
The CPUC also regulates the services and rates of vessel common carriers.
These are privately owned companies that transport passengers or property by vessel between California points.
The majority of the approximately 20 licensed operators conduct ferry services on San Francisco Bay or provide cross-channel transportation between Southern California mainland points and Santa Catalina Island.
Limos, Shuttles, and Buses: Consumer Information
The CPUC licenses and regulates private "passenger carriers," such as limousines, airport shuttles, and charter bus companies.
HIRING A LIMO, SHUTTLE, OR BUS
If you are planning to hire a "passenger carrier," you can call the CPUC at 1-800-894-9444 for more information.  We can tell you if the carrier is licensed and insured, and whether consumers have filed any complaints against the company.
You can also search our List of Companies to find out if a company is licensed.
For 10 tips on renting a limousine, please read our consumer advisory.
For more advice on hiring a limousine, shuttle, or charter bus, please see our Passenger Transportation Information Sheet.

FILING A COMPLAINT
If you have a billing, service, or safety problem with a "passenger carrier," and talking with the carrier does not resolve the problem, you can file a complaint with the CPUC.  For more information and detailed instructions for filing a complaint, please see our Limo, Shuttle, or Bus Complaint web page.
For additional information on limousines, airport shuttles, and charter bus companies, please see our Passenger Carriers web page.
For more information on how the CPUC can help you resolve issues, please see Do You Have a Question or Complaint?