We have been notified by our clients that they have been receiving bogus Compliance Notification Letters on their FAX machine. They are puzzled as to why they are receiving the letter.
The reason is pretty simple — they are being scammed by at least a couple of shady operators who think posing as a federal compliance agent is a smart marketing tool.
In fact impersonating a federal agent is a crime:
18 U.S. Code § 912 – Officer or employee of the United States
Whoever falsely assumes or pretends to be an officer or employee acting under the authority of the United States or any department, agency or officer thereof, and acts as such, or in such pretended character demands or obtains any money, paper, document, or thing of value, shall be fined under this title or imprisoned not more than three years, or both.
Furthermore, in response to these types of scams, California enacted stronger laws to specifically prevent people from sending misleading solicitations to Californians.
Business & Professions Code § 17533.6 establishes that it is:
"unlawful for any person, firm, corporation, or association that is a nongovernmental entity to use a seal, emblem, insignia, trade or brand name, or any other term, symbol, or content that reasonably could be interpreted or construed as implying any federal, state, or local government…connection, approval, or endorsement of any product or service… unless the nongovernmental entity has an expressed connection with, or the approval or endorsement of, a federal, state, or local government…"
Scary FAX Scam
As you can see (on the right) the letter attempts to scare the recipient into believing they are not in compliance and that they need to respond to the letter right away. In the bottom portion of the letter they helpfully say you can be compliant by paying a mere $49.95. Clients tell us that when they call the number in the letter, a message states that "all representatives are busy helping other callers" but that you can definitely log onto their website for assistance, of course, once you pay the $49.95.
It is important to note that the timing of this scam intentionally coincides with legitimate notifications being distributed to randomly selected motor carriers via electronic mail in order to create confusion.
In the past 10 years that I have been with AADT, there have been many scams that have managed to cause our clients to be worried about their compliance. We have been very fortunate to have contacts with the FMCSA and CHP to help answer if these are true compliance requests or scams. So if you receive a text to your phone or a fax letter that you are not sure about, don't hesitate to contact our office for assistance.
There are several remedies available to anyone receiving these fraudulent solicitations. You can fill out a complaint form on the California Attorney General's website (www.oag.ca.gov/consumers), as a violation of the law is a misdemeanor punishable by imprisonment in a county jail or by a fine not exceeding $2,500. Additionally, California law permits any person who is harmed as a result of a violation of the law to bring legal action to recover damages in an amount equal to three times the amount solicited – thus in this scenario, anyone receiving this solicitation may be entitled to $150. Additionally, we could ask federal authorities to look into prosecuting under 18 U.S. Code § 912.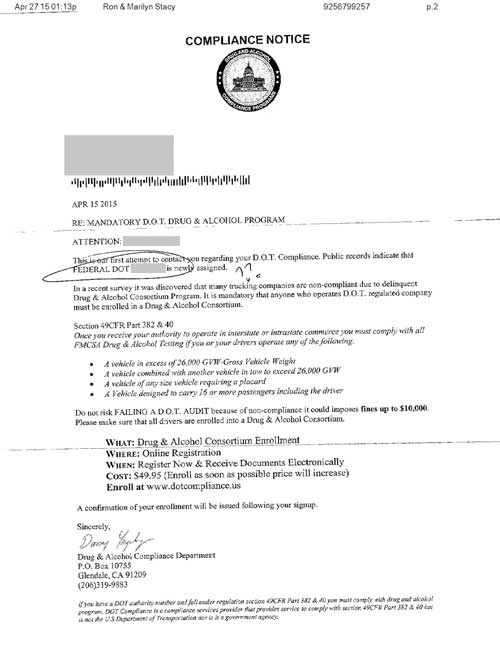 https://aadrugtesting.com/wp-content/uploads/Logo_02.jpg
0
0
admin
https://aadrugtesting.com/wp-content/uploads/Logo_02.jpg
admin
2015-05-14 11:47:58
2015-05-14 11:51:11
Spring is the Season of Scams