Se nos ha notificado por nuestros clientes de recibir falsas cartas de notificación de cumplimiento en su máquina de fax. Ellos están desconcertados por qué están recibiendo la carta.
La razón es bastante simple-están siendo timados por al menos un par de operadores, que piensan pasar por un agente de cumplimiento federal es una herramienta de comercialización inteligente, de hecho, hacerse pasar por un agente federal es un delito: (Regulaciones Federales)18 U.S. Código § 912 – Oficial o empleado de los Estados Unidos
Quien asume falsamente o se hace pasar por un oficial o empleado que actúa bajo la autoridad de los Estados Unidos o en cualquier departamento, agencia o funcionario de la misma, y actúa como tal, o en tales demandas de carácter pretendidos u obtiene dinero, papel, documentos, o cosa del valor, será multado bajo este título o encarcelado no más de tres años, o ambos.
Por otra parte, en respuesta a este tipo de estafas, California promulgó leyes más estrictas para prevenir específicamente la gente podrá enviar solicitudes engañosas a los californianos.
Código de Negocios y Profesiones § 17533.6 establece que es:
"unlawful for any person, firm, corporation, or association that is a nongovernmental entity to use a seal, emblem, insignia, trade or brand name, or any other term, symbol, or content that reasonably could be interpreted or construed as implying any federal, state, or local government…connection, approval, or endorsement of any product or service… unless the nongovernmental entity has an expressed connection with, or the approval or endorsement of, a federal, state, or local government…"
Asustadiza de Estafa
Como se puede ver (imagen) de la letra intenta asustar al destinatario en la creencia de que no están en cumplimiento y que tienen que responder a la carta de inmediato. En la parte inferior de la carta que amablemente dicen que usted puede ser compatible mediante el pago de sólo $ 49.95. Los clientes nos dicen que cuando llaman al número en la carta, un mensaje indica que "todos los representantes están ocupados ayudando a otras personas que llaman", pero que definitivamente se puede iniciar sesión en el sitio web de asistencia, por supuesto, una vez que usted paga los $ 49.95.
Es importante tener en cuenta que el momento de esta estafa coincide intencionalmente con notificaciones legítimas están distribuyendo a seleccionado al azar transportistas a través de correo electrónico con el fin de crear confusión.
En los últimos 10 años que he estado con AADT ha habido muchos fraudes que han logrado hacer que nuestros clientes para estar preocupado por su cumplimiento. Hemos sido muy afortunados de tener contactos con la FMCSA y CHP para ayudar respuesta si se trata de solicitudes de cumplimiento verdaderos o estafas.
Así que si usted recibe un texto a su teléfono o fax una carta que usted no está seguro de que no dude en ponerse en contacto con nuestra oficina para solicitar ayuda.
Hay varios remedios disponibles a cualquier persona que reciben estas solicitudes fraudulentas.
Usted puede llenar un formulario de queja en el sitio web del Procurador General de California (www.oag.ca.gov/consumers), como una violación de la ley es un delito menor punible con pena de prisión en una cárcel del condado o con una multa que no exceda de $ 2,500. Además, la ley de California permite que cualquier persona que está dañado como resultado de una violación de la ley a emprender acciones legales para recuperar los daños en una cantidad igual a tres veces la cantidad solicitada – por lo tanto, en este escenario, cualquier persona que reciba esta solicitud puede tener derecho a 150 dólares.
Además, podríamos pedir a las autoridades federales para investigar la persecución de menores de 18 US Code § 912.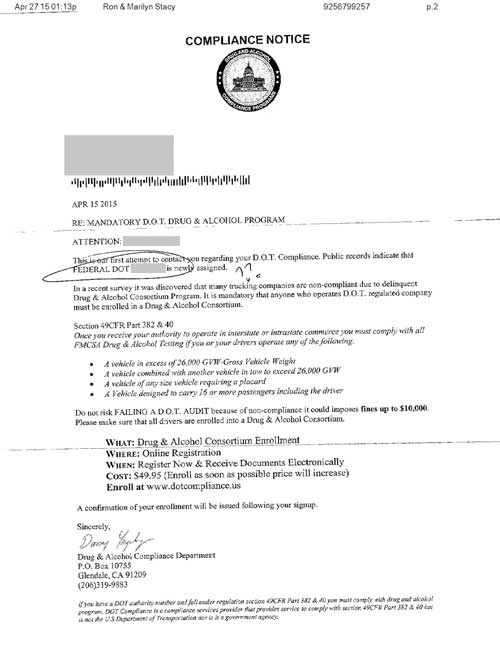 https://aadrugtesting.com/wp-content/uploads/Logo_02.jpg
0
0
admin
https://aadrugtesting.com/wp-content/uploads/Logo_02.jpg
admin
2015-05-14 11:50:42
2015-05-14 11:50:42
La Primavera Es La Temporada De Las Estafas